The Gettysburg Foundation Visa® Platinum Rewards Card
Apply for the Friends of Gettysburg Visa Card to help preservation efforts today. The Gettysburg Foundation's mission is to enhance preservation and understanding of the heritage and lasting significance of Gettysburg. When you apply and use the card, major preservation projects will benefit. Help us preserve Gettysburg for younger generations to come!
Receive Visa Platinum benefits including online banking, auto rental, travel insurance, and much more!
Earn redeemable rewards points by shopping at participating retailers.
Show your Gettysburg Foundation support and pride by choosing one of our customized card designs.
Have the security of fraud protection and 24/7 emergency customer service.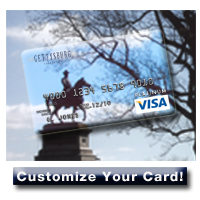 For more information about
Gettysburg Foundation
visit http://www.gettysburgfoundation.org